People?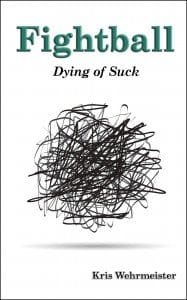 I am so pleased to finally be able to share Fightball with you.  I can't wait for you to read.  Can … not … wait.
Thank you so much to my advance readers and first reviewers.  YOU GUYS ARE AWESOME, and your words on Amazon have made me weepy.  Sniff.  I love you guys.
Check out the reviews, people … LOOK AT THE AWESOME.
Instead of carrying on with random giddiness, I direct you now to Bill's place.  You may know Bill from the comments, where he has been hanging out for many years under the pseudonym Hogs Ate My Sister.  Because obviously.  Bill has agreed to, as he puts it, "slut for Fightball" … go see!
And guess what?  There are free copies of Fightball: Dying of Suck available to a few winning commenters over at his place!  Assuming Bill and I have worked out the difficulties of the international dateline nonsense, those books will be delivered sometime in August.  Or sooner.  Maybe.  New Zealand is weird.
Fightball, people.
It's a thing.